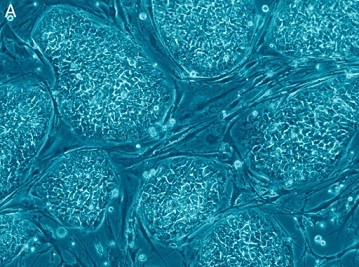 The second Wednesday of October, the 13th October this year, is nominated as Stem Cell Awareness day, in recognition of the extraordinary qualities of Stem Cells, how much they have taught us about normal development and disease and how much promise they hold for stem-cell based therapies and Regenerative Medicine. To celebrate Stem Cells in BMC Series we have compiled an article collection from across different journals that focus on various types of stem cells. The articles cover aspects of basic stem cell biology; in vitro differentiation studies to elucidate normal developmental processes and disease mechanisms and assess toxicity; stem-cell based therapy studies for various conditions in animal models; technical advancements and ethical issues. We look forward to receiving more stem-cell related studies in BMC Series.
Dynamic conversion of cell sorting patterns in aggregates of embryonic stem cells with differential adhesive affinity.
Tse, J.D., Moore, R., Meng, Y. et al.
BMC Dev Biol 21, 2 (2021).
Long-term expansion, genomic stability and in vivo safety of adult human pancreas organoids.
Georgakopoulos, N., Prior, N., Angres, B. et al. Long-term expansion, genomic stability and in vivo safety of adult human pancreas organoids.
BMC Dev Biol 20, 4 (2020).
Global transcriptome profile of the developmental principles of in vitro iPSC-to-motor neuron differentiation.
Emilia Solomon, Katie Davis-Anderson, Blake Hovde, Sofiya Micheva-Viteva, Jennifer Foster Harris, Scott Twary & Rashi Iyer.
BMC Mol and Cell Biol 22, 13 (2021).
NRXN1α+/- is associated with increased excitability in ASD iPSC-derived neurons.
Avazzadeh, S., Quinlan, L.R., Reilly, J. et al.
BMC Neurosci 22, 56 (2021).
Evaluation of odonto/osteogenic differentiation potential from different regions derived dental tissue stem cells and effect of 17β-estradiol on efficiency.
Son, YB., Kang, YH., Lee, HJ. et al.
BMC Oral Health 21, 15 (2021).
Effects of ERK/p38 MAPKs signaling pathways on MTA-mediated osteo/odontogenic differentiation of stem cells from apical papilla: a vitro study.
Du, J., Lu, Y., Song, M. et al.
BMC Oral Health 20, 50 (2020).
The osteogenic differentiation of human dental pulp stem cells in alginate-gelatin/Nano-hydroxyapatite microcapsules.
Alipour, M., Firouzi, N., Aghazadeh, Z. et al.
BMC Biotechnol 21, 6 (2021).
Electronic cigarette extract induced toxic effect in iPS-derived cardiomyocytes.
Basma, H., Tatineni, S., Dhar, K. et al.
BMC Cardiovasc Disord 20, 357 (2020).
A phase Ib/IIa, randomised, double-blind, multicentre trial to assess the safety and efficacy of expanded Cx611 allogeneic adipose-derived stem cells (eASCs) for the treatment of patients with community-acquired bacterial pneumonia admitted to the intensive care unit.
Laterre, PF., Sánchez-García, M., van der Poll, T. et al.
BMC Pulm Med 20, 309 (2020).
Transplanted embryonic retinal stem cells have the potential to repair the injured retina in mice.
Feng, X., Chen, P., Zhao, X. et al.
BMC Ophthalmol 21, 26 (2021).
Periodic injections of adipose-derived stem cell sheets attenuate osteoarthritis progression in an experimental rabbit model.
Takagi, T., Kabata, T., Hayashi, K. et al.
BMC Musculoskelet Disord 21, 691 (2020).
Bone marrow-derived mesenchymal stem cells attenuate myocardial ischemia–reperfusion injury via upregulation of splenic regulatory T cells.
Pang, LX., Cai, WW., Li, Q. et al.
BMC Cardiovasc Disord 21, 215 (2021).
Rapid and easy-to-use ES cell manipulation device with a small groove near culturing wells.
Funano, Si., Tone, D., Ukai, H. et al.
BMC Res Notes 13, 453 (2020).
The law and problematic marketing by private umbilical cord blood banks.
Murdoch, B., Marcon, A. & Caulfield, T.
BMC Med Ethics 21, 52 (2020).