ISRCTN registry
ISRCTN is a clinical trial registry recognized by the WHO and ICMJE that accepts planned, ongoing or completed studies of any design. ISRCTN is committed to supporting research transparency. The first ISRCTN numbers were issued in 2000, so we celebrated 20 years of ISRCTN in 2020.
Why register with us?
Our expert editors work with investigators to ensure that trial records are clear and complete before publication
We send prompts to update records at key milestones
ISRCTN records include basic results summaries, protocols, published results links and data sharing plans
ISRCTN records encourage public involvement by including plain English summaries and appear on the WHO ICTRP and Be Part of Research portals
Register your trial today
New instruction videos now on YouTube
Watch our new videos on YouTube showing: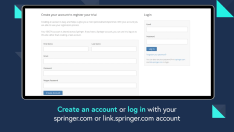 The full playlist can be found here.
As part of our ongoing development of the ISRCTN website, we are looking at introducing a dashboard-style view of the registry database, which can be used to see an overview of the activity and transparency status of studies. You can filter the results to see studies that are relevant to you (e.g. sponsored or funded by a particular institution). To see the prototype dashboard and to give us your valuable feedback, please click here. There is a link to provide your feedback on the dashboard, alternatively you can access the feedback form here.
Quizzes
How much do you know about the clinical trials currently investigating COVID-19?
ISRCTN's response to COVID-19
ISRCTN has implemented several changes in order to support research transparency during the COVID-19 pandemic:
Standard search terms to maximize discoverability
Guidance to facilitate same-day registration
Prompts to investigators to update records for studies paused due to COVID-19
Collaboration with UK organizations to enhance information consistency
Search for 'COVID-19' to see all the studies registered so far, and read our blogs: