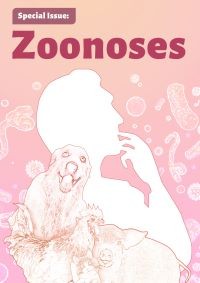 The past century had witnessed numerous regional or global outbreaks of infectious diseases in animals such as Plaque, African swine fever, and influenza. It has been estimated that 60% of human infectious diseases and 75% of all emerging infectious diseases are zoonotic in nature. Human diseases with animal origins, such as SARS, MERS, and most recently, COVID-19, have been proven very challenging to prevent and control. Currently, zoonotic pathogens are causing enormous economic losses to the livestock industry, and posing serious threats to human health.The aim of this issue is to provide timely reports on the surveillance, transmission, evolution, and prevention of zoonoses in regionally or globally.
High-quality, innovated and prospective research is welcomed.
Topics of interest include:
Epidemiological investigation of important zoonoses;
Mechanisms of evolution and cross-species transmission of zoonotic pathogens
Pathogenesis of zoonotic pathogens
Diagnosis of zoonoses
Development of strategies (vaccines, drugs, etc) to prevent and control zoonoses
Articles will undergo all of the journal's standard peer review and editorial processes outlined in its submission guidelines.
Editorial Board
Guest Editor: Zhen F. Fu
Editor-in-Chief of Animal Diseases
Professor of Virology, University of Georgia, USA
Email: zhenfu@uga.edu
Guest Editor: Jürgen A. Richt
Associate Editor of Animal Diseases
Regents and University Distinguished Professor, Director of Center of Excellence for Emerging and Zoonotic Animals Diseases (CEEZAD), Kansas State University, USA
Email: jricht@vet.k-state.edu

Science Editor: Qi Huang
Associate Professor of Veterinary Bacteriology, College of Animal Sciences & Technology, Huazhong Agricultural University, China
Email: qhuang@mail.hzau.edu.cn

Science Editor: Yifei Lang
Associate Professor of Veterinary Virology, College of Veterinary Medicine, Sichuan Agricultural University, China
Email: y_langviro@163.com
Articles published in this collection: