Schistosomiasis japonica, a chronic and debilitating disease, caused by the blood fluke Schistosoma japonicum, has been epidemic for more than 2000 years, and is still of considerable economic and public health concern in the People's Republic of China (P.R.China).
By employing vast resources and diverse approaches, the national control program led to the elimination of the disease from a large area. Substantial progress has also been made in most of the remaining endemic areas, the total number of infected people having been reduced by over 95% since 1950. The transmission patterns of Schistosomiasis japonica in P.R. China are affected by several factors, which determine the subsequent modification of the elimination strategy. Combined with the sampling frame at various temporal and spatial scales, all scenarios of interventions are able to be modeled, based on results of the geographical mapping and risk profiling of schistosomiasis.
Consequently, the transmission intensity and patterns, as well as spreading direction and speed of the disease, can be predicted or projected to create a real-time surveillance-response system for the progressive elimination of schistosomiasis. Therefore, the transmission threshold of schistosomiasis japonica is an important issue to be addressed in the transition stage from control to elimination of the national schistosomiasis elimination programme in P.R. China.
This series will focus on the recent advances on schistosomiasis research in elimination strategy in setting up real-time surveillance-response systems to achieve the transmission threshold in different social-ecological contexts in P.R. China.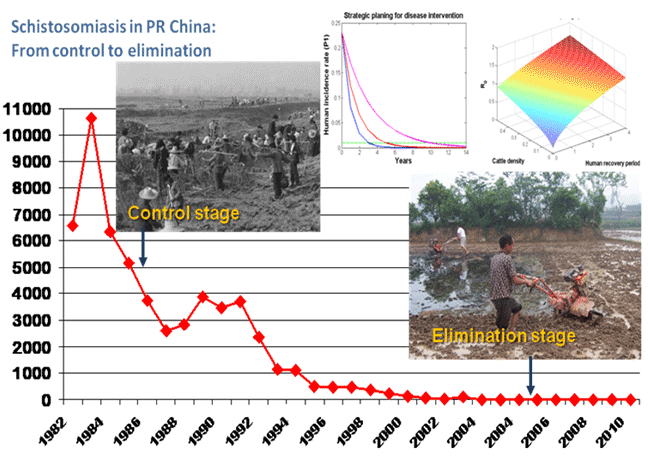 Collection published: 24 May 2013

View all collections published in Parasites & Vectors