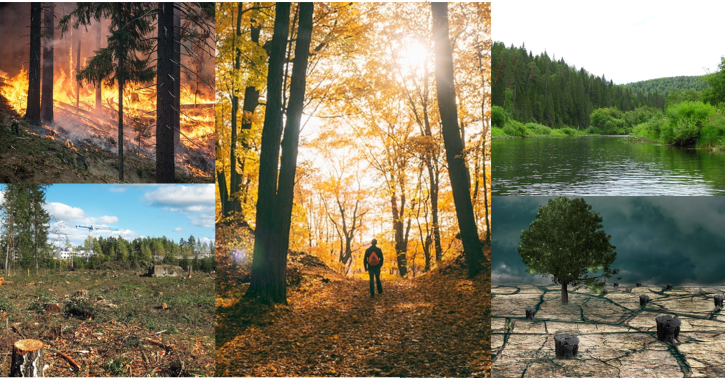 Guest Editor: Marielle Brunette (INRAE)
Editor: Rasoul Yousefpour (University of Toronto)
Expectations towards the forests are diverse and may lead to potential conflicts due to divergences. In particular, society's expectations can sometimes be in conflict with forest owners expectations in terms of ecology or economy. Public access to a forest can thus be facilitated (construction of access roads, recreational areas, etc.) to the detriment of the preservation of biodiversity. However, expectations can also converge. Thus, society is more and more inclined to use wood material and this is in line with the economic expectations that weigh on the forestry sector. The interests can thus be convergent or divergent between the various actors of the society. The risks associated with conflict situations can generate inertia and "non-action", which is undesirable in a context of climate change. Indeed, forests have a role to play in terms of mitigation and for this they must adapt. These conflicts could then generate "non-adaptation" or "mal-adaptation" which would be harmful.
Submission Instructions: Prior to submission, please ensure you have carefully read the submission guidelines for the journal. To ensure that you submit to the correct article collection, please select the topical collection "Risks of (not) adapting" in the drop-down menu upon submission; in addition, indicate within your cover letter that you wish for your manuscript to be considered within this collection.
We invite all interested authors to contribute to this topical issue. Various specific subjects
may be of interest :
• Modelling frequency and intensity of natural hazards;
• Disturbance of biotic and abiotic agents in forests;
• Presenting approaches and tools to deal with risk and uncertainty in forest;
• Identifying potential obstacles and levers to forest adaptation to climate change;
• Dealing with behavioral components around the decision-making process;
• Trade-offs (or not) between adaptation and other objectives such as mitigation of
climate change;
• Acceptability of adaptation to climate change by the society at large;
• Economic efficiency of adaptation measures.

In particular, we encourage authors who presented their results in the frame of the 04.04.07
IUFRO Risk analysis conference (held in Nancy in May 31th - June 2nd, 2022) to submit
manuscripts derived from their talk. However, this topical issue also welcomes relevant
contributions from case studies and methodological advancements around the world fitting
the scopes highlighted above. We expect that this topical collection will provide a set of tools
and approaches to support adaptive decision-making in forestry. Disentangling the main
drivers of (non)adapting and the challenges for decision-makers are in the focus of this topical
collection to analyse and find forest management solutions.
Submissions close end of December 2023
Articles published in this collection