Paediatric Obesity and Diabetes
Guest edited by:
Professor May Ng and Dr Pooja Sachdev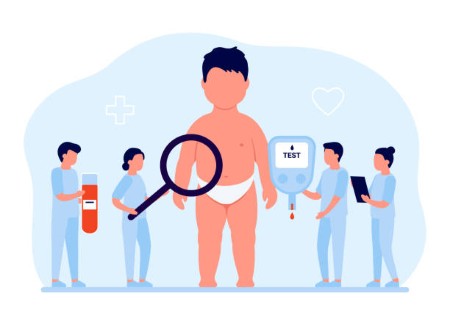 Call for Papers
There are currently an estimated 1.1 million children and adolescents (<20 years) living with type 1 diabetes (T1D) around the world and whilst a majority of paediatric diabetes cases are T1D, the prevalence of type 2 diabetes (T2D) is also increasing (International Diabetes Federation). Obesity in paediatrics has been on the rise in the past decades and has led to a dramatic growth in the incidence of T2D among children and adolescents. For example, in England (UK) 34% of children are overweight or obese by the time they leave primary school (Diabetes UK) and of those receiving T2D care in Paediatric Diabetes Units in England and Wales 84.6% are obese (Local Government Association). Also, according to World Health Organisation, 39 million children under the age of 5 were overweight or obese in 2020. A majority of youth suffering from T2D do not achieve optimal glycemic control which places them at a greater risk of other complications and healthcare problems.
A variety of risk factors (including race and ethnic factors, pubertal insulin resistance, gender, weight, inactivity, family history, maternal gestational diabetes, low birth weight and pre-term birth, genetics, certain viruses) can contribute towards the development of paediatric diabetes. Faster weight gain in infants may not only lead to type 2 diabetes later on in life but has also been shown to be involved in the pathogenesis of type 1 diabetes.
Children and adolescents with diabetes may experience the microvascular and macrovascular complications caused by this disease at younger ages than those who develop diabetes in adulthood. Such complications include atherosclerotic cardiovascular disease, stroke, myocardial infarction, sudden death; renal insufficiency and chronic renal failure; limb-threatening neuropathy and vasculopathy; retinopathy resulting in blindness; and problems in gums and feet.
Obesity and diabetes in paediatrics both represent significant public health issues with possibly substantial personal as well as societal costs and are associated with extra resource use (Pulgaron and Delamater, 2015). Widening inequalities in paediatric obesity and diabetes care are also resulting in poorer outcomes particularly in children and adolescents from ethnic minorities and socially deprived areas (Local Government Association; Diabetes UK; Catherine et al., 2021; Noonan 2018). It is therefore important to urgently address factors leading to the increased incidence of these conditions, prevention of these diseases as well as interventions to effectively manage and treat these conditions and reduce inequality amongst such patients.
BMC Medicine is pleased to launch a collection titled "Paediatric obesity and diabetes" that welcomes outstanding contributions in these fields. We would like to invite submissions of original research including but not limited to:
Epidemiology of paediatric Type 1 or Type 2 diabetes
Complications of paediatric Type 1 or Type 2 diabetes
Epidemiology of paediatric obesity
Complications of paediatric obesity
Strategies to reduce inequalities in treatment and management of paediatric obesity and diabetes
Health inequalities in management of paediatric diabetes (Both Type 1 and Type 2)
Preclinical and proof of concept studies on novel treatment/management strategies for paediatric diabetes
Novel clinical interventions for treatment/ management of paediatric obesity/ diabetes
Quality of life of paediatric obesity and diabetes patients
BMC Medicine encourages submissions of front matter articles and original research including randomised clinical trials (phase I, I/II, II and III as well as positive or negative trials), epidemiological studies (retrospective or prospective), systematic and umbrella reviews, medical genomics studies, biomarkers and translational research. We also welcome outstanding mechanistic laboratory studies that provide translational insights and can include guidelines.
Please note that we do not consider case reports.
Guest Editors provided guidance on the scope of this collection and advised on commissioned content. However, they are not involved in editorial decision-making on papers submitted to this collection. All final editorial decisions are with the Editor-in-Chief, Dr. Lin Lee.​
Meet our Guest Editors
Professor May Ng, OBE (PhD MBA LLM MSc MBBS (Hons) FHEA FRCPCH SFFMLM)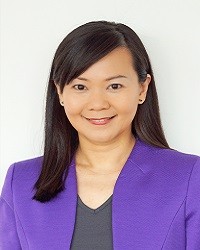 Professor May Ng is a Consultant Paediatric Endocrinologist at Southport and Ormskirk NHS Trust, Honorary Professor at Edge Hill University and Honorary Associate Professor at the University of Liverpool. She completed her undergraduate degree under full scholarship in Sydney, Australia and was the recipient of the UK Medical Research Council Fellowship. Following her MBBS (Hons) in Sydney University, she further obtained a Masters and PhD degree in paediatric endocrinology and diabetes in the UK.
She has published over 200 research papers, is a regular reviewer for high-impact journals such as the BMJ, JCEM and the Lancet, and she has presented at more than 250 scientific meetings. She has authored 3 books 'A guide to Type 1 diabetes management, technology and everything else you need to know; 'A Journey With Brendan' and 'Me and My Hormones'. Chair of the UK Association of Children's Diabetes Clinicians, Chair of UK National Institute Health Research Clinical Research Network (NIHR CRN) Diabetes Research Steering Group for Children and is the Royal College of Paediatrics and Child Health Officer for Research. She is also the voluntary Chief Medical Advisor for Action4Diabetes. May was awarded an OBE on the 2022 Platinum Jubilee Queen Elizabeth II's Birthday Honours for Services to People with Diabetes and People with Autism and Disabilities. She is also recipient of numerous prestigious awards for recognition of her work such as Diabetes UK Arnold Bloom 2023 Award, Winner of the Northwest Excellence in Healthcare NHS Parliamentary Awards 2020, Diabetes UK Mary McKinnon Award 2018, University of Liverpool Alumni Award 2019 and Winner of 2015 Diabetes Quality in Care award.
Dr Pooja Sachdev (MBBS, DNB, FRCPCH, PhD)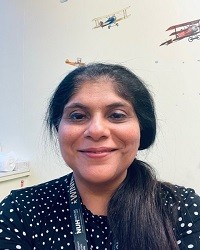 Dr Pooja Sachdev is a Consultant in Paediatric Diabetes and Endocrinology at Nottingham Children's Hospital based at Queen's Medical Centre in Nottingham. She is an Honorary Assistant Professor at the University of Nottingham and her research interests include childhood obesity, paediatric type 2 diabetes and adrenal insufficiency. She leads the regional East Midlands Paediatric Complications from Excess Weight (CEW) service for Nottingham.

Dr Sachdev completed her undergraduate degree in Medicine in Aligarh, India and undertook her further paediatric training in Delhi, West Midlands and South Yorkshire deaneries. She completed her PhD at the University of Sheffield in the area of childhood obesity. Dr Sachdev has given over 50 presentations at international, national and regional meetings and written several papers.
She is a committee member of the Association of Children's Diabetes Clinicians (ACDC), the Clinical Standards Officer for the British Society of Paediatric Diabetes and Endocrinology (BSPED) and the Vice- Chair of the National Type 2 Diabetes Working Group for Children and Young People. She was the Training Advisor on the College Speciality Advisory Committee (CSAC) of the Royal College of Paediatrics and Child Health (RCPCH) for Paediatric Diabetes and Endocrinology from 2016-2022. She was the Return to Training (RTT) Champion for the School of Paediatrics in the East Midlands to facilitate a safe and supervised return to training for doctors who had been out of programme for any reason (2018-2021).