Plant phenomics: Data integration and analyses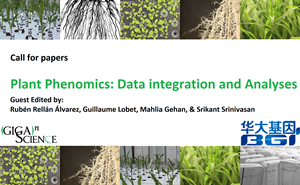 edited by Dr Rubén Rellán Álvarez, Dr Guillaume Lobet, Dr Malia Gehan, and Dr Srikant Srinivasan
GigaScience is proud to present this cutting-edge series, with the aim to shed light on new advances, applications, and challenges, and to improve data sharing, integration, analyses and reproducibility in plant phenomics. Recent improvements in phenomics has created a lot of new opportunities to understand and predict dynamic phenotypic responses to genotypic variation. However, problems and opportunities begin to emerge, such as the ability to collect phenotypic data in a way that can be combined with different datasets for meta-analyses, the generation of models or as ground-truth datasets.
We encourage the submission of Research Articles and Technical Notes, as well as Data Notes, which are papers that focus on the description of interesting plant phenomic datasets, curated and hosted in our database, GigaDB. We also consider Commentaries and thought provoking Reviews in this area.
Potential topics include, but are not limited to:

New methods in phenotype data collection e.g. Drones, imaging techniques
New tools in phenotype data integration and analyses
Morphometrics
Organ-scale phenomics
Databases, management and workflows
Research or Data wrapped in a containerized form e.g. Docker, BioBox, VMs
This collection of articles has not been sponsored and articles have undergone the journal's standard peer-review process. The Guest Editors declare no competing interests.