Edited by: Dr Sabina Alam and Dr. Jigisha Patel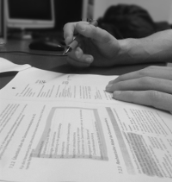 Peer review of scholarly research articles prior to publication is standard practice for most biomedical journals. The motivation for adhering to these practices lies in the need for editors and journals to operate a high level of quality assurance and to make fair editorial decisions that are not solely dependent on the opinion of one person. However the peer review system is not without limitations. One of the most pressing concerns is the increasing volume of submissions to journals, which in turn places a significant burden upon senior researchers, who find themselves at the receiving end of very frequent requests to review papers.
At the same time, it is important to actively involve junior researchers in the peer review process so that they gain experience. However, a significant proportion of reviewers feel that guidance (56%) and formal training in peer review is needed (68%) [Mulligan, A., & Raphael, E. (2010).Peer review in a changing world—preliminary findings of a global study. Serials, 23(1), 25–34.].
As sourcing appropriate guidance can be challenging, we have commissioned a series of articles from experts in various types of research methodology. These articles aim to provide tips for reviewers on how to ensure they have critically assessed a manuscript. As with all of our journal content, this information is freely available and we hope reviewers will find the advice provided to be useful.
All articles in this collection have been peer reviewed.