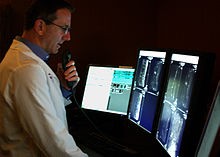 Surprisingly, in contrast to the literature regarding the outcomes of imaging, the methods that underpin the generation of a report and how to communicate the findings cogently to referring clinicians remains something of a "black box".
This series of articles appearing in Cancer Imaging showcases experts in various modalities detailing their approach to reporting scans in particular disease settings. We hope that you will be excited to discover this data, which has traditionally been locked into the brains of experts and only intermittently shared with their own direct trainees or alternatively, at often expensive masterclass presentations.
Articles published in the collection have already gone through the systematic peer review process of the journal.

Read the introductory Editorial for 'How I read cancer imaging studies: the master class series' written by Prof Rodney Hicks, Editor-in-Chief of Cancer Imaging.
-------------------------------------------------------------------------------------------------------