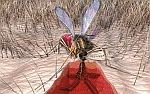 This article collection is a series of seven papers describing studies on the efficacy of a new combination of fipronil and permethrin in a spot-on formulation for dogs (Frontline Tri-Act®/Frontect®, Merial).
The ectoparasites of dogs, including ticks and several types of insects, represent a nuisance and can cause direct damage to their hosts, which may also comprise people and other animals. Due to the potential transmission of pathogenic bacteria, protozoa, helminths and viruses, many of which are zoonotic, ectoparasites of dogs additionally represent an indirect threat to both veterinary medicine and public health.
The new fipronil and permethrin ectoparasiticide combination provides a high and long lasting efficacy against ticks, fleas, mosquitoes, sand flies and stable flies, following a single topical application on dogs. This new combination protects dogs from the direct actions of ectoparasites and will also prevent infection with vector-borne agents that cause canine diseases and might affect humans and other hosts as well.
This article collection page was created to facilitate access to research articles published in Parasites & Vectors relating to this topic. The article processing charges for the Research articles in the collection have been funded by Merial and a detailed conflict of interest statement is included within each article. The Guest Editor coordinated the peer-review of each manuscript following the journal's peer review policy. The Guest Editor declares he does not have any conflicts of interest. Each article can also be found individually in the journal.
Edited by: Dr Luis Cardoso
Collection published: 27 January 2015

View all collections published in Parasites & Vectors