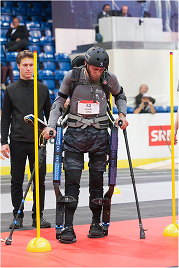 Edited by: Olivier Lambercy and Roger Gassert
An article collection in Journal of NeuroEngineering and Rehabilitation.
In October 2016 in Zurich, Switzerland, the first CYBATHLON brought together international teams of pilots with disabilities, researchers, technology developers and clinicians to compete in six disciplines using advanced assistive technologies. This unique championship highlighted the potential and challenges of current assistive technologies, and provided a novel basis for technology benchmarking. Two days earlier, the scientific community gathered at the CYBATHLON Symposium to present the latest research, and discuss critical aspects of assistive technology development and use.
This thematic series comprises a selection of manuscripts focusing on user-oriented developments in the field of assistive technologies related to the six disciplines of the CYBATHLON. These highlight the validation of developments through user tests, as well as, for the groups that competed in the CYBATHLON, reflect on the insights and experience gained at this event. The thematic series is completed with ethical and social considerations related to the design and use of assistive technologies.

As such, these articles provide valuable insights on the development of assistive technologies, as well as the training with users and related customization; critical aspects that are often omitted in scientific publications. It is hoped that these accounts and insights will promote further discussion and support the development of user-centered assistive technology.
This collection of articles has not been sponsored and articles have undergone the journal's standard peer-review process overseen by the Editor-in-Chief and Associate Editors. The Editor-in-Chief and Associate Editors declare no competing interests.