Edited by Ben Marais, University of Sydney, Australia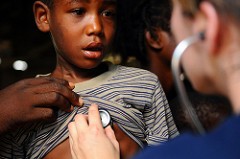 This series of articles, published in Pneumonia, provides an overview of the global child tuberculosis burden and examines issues such as diagnosis, advances in treatment, and novel vaccination approaches. The series aims to address the needs of researchers, clinicians and other individuals who require up-to-date information on this topic.
Submissions have undergone the journals standard peer review process and are formatted according to our submission guidelines.
This collection is no longer accepting submissions.
For further information, please email pneumonia@biomedcentral.com.