Guest Editors:
Ashish Kumar Arya: Graphic Era (Deemed to be University), India
Archana Bachheti: Graphic Era (Deemed to be University), India
Lauren Common: Konrad Lorenz Research Center for Behavior and Cognition & Department of Behavioral and Cognitive Biology, University of Vienna, Austria
Kamal Kant Joshi: Graphic Era Hill University, India
Andrew Katsis: Konrad Lorenz Research Center for Behavior and Cognition & Department of Behavioral and Cognitive Biology, University of Vienna, Austria
Sonia Kleindorfer: Konrad Lorenz Research Center for Behavior and Cognition, University of Vienna, Austria
Vinaya Kumar Sethi: Uttarakhand Sanskrit University, India
Submission Status: Open | Submission Deadline: 15 June 2024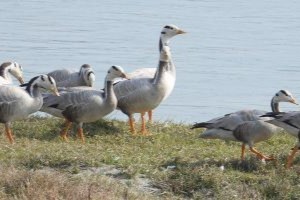 BMC Zoology is calling for submissions to our Collection on "Birds and environment: exploring the interconnections and conservation challenges".
Birds, as integral components of ecosystems, serve as vital indicators of environmental health. Their behaviors, migration patterns, and population dynamics can provide valuable insights into the state of the environment. This special issue aims to bring together a diverse collection of articles that shed light on various aspects of bird-environment interactions, their adaptations, and the challenges they face in today's changing world.


This Collection supports and amplifies research related to SDG 15: Life on Land.