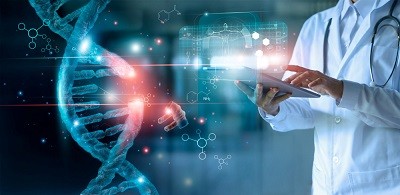 Applications of technology, including for dissection of disease architecture, modeling of progression, disease prognosis, and prediction of clinical outcomes, have been widely demonstrated in recent years cementing the significance of these tools for advancing health and medicine. Single-cell transcriptomics, spatial multi-omics, long read sequencing, artificial intelligence and machine learning are among recently developed technologies that have revolutionized our understanding of disease and have the potential to benefit clinical practice. Single-cell sequencing and spatial 'omics have furthered the dissection of complex biological mechanisms in tissues as well as uncovered novel insights into disease architecture at a cellular level. Artificial intelligence and machine learning tools have shown potential applications in disease detection, diagnosis, subtype classification, prognosis prediction, determination of therapeutic response in patients, and drug development. Technologies have aided our understanding of disease variation and interpretation making significant strides for patient treatment and management.

To capture advances in this growing area, Genome Medicine is pleased to announce a call for papers for our upcoming special issue on 'New technology applications in health and disease', guest edited by Dr. Fei Chen from the Broad Institute and Dr. Francisco De La Vega from Stanford University. The issue will capture applications of new technologies in understanding disease etiology, progression, diagnostics, and response to therapeutics as well as combine multi-omic and clinical data, leverage health systems data, and cover the spectrum of human disease, with a special emphasis on cancer and rare diseases.

We are now inviting the submission of Research, Method, Software, Database and Guideline manuscripts of outstanding interest covering new technology applications in health and disease including:
● Single-cell 'omics
● Spatial multi-omics
● Application of multi-omics and multi-modal studies
● Artificial intelligence, machine learning, and deep learning
● Applications of long read sequencing
● Clinical interpretation
● Precision genome engineering
● Cellular therapies and gene therapies
● Sequencing based diagnostics
● Health systems data and image analysis
Submission deadline: 23 January 2023
To submit your manuscript, please use the Genome Medicine online submission system and indicate in your covering letter that you would like the article to be considered for the 'New technology applications in health and disease' special issue. If you would like to enquire about the suitability of a manuscript for consideration, please email editorial@genomemedicine.com.
This collection of articles has not been sponsored and articles will undergo the journal's standard peer-review process. The Guest Editors declare that they have no competing interests. The Guest Editors serve an advisory role to guide the scope of the special issue and commissioned content; final editorial decisions lie with the Editor.