Guest Editors:
Miguel Hueso Val: Bellvitge University Hospital, Spain
Alfredo Vellido: Polytechnic University of Catalonia, Spain
Submission Status: Open | Submission Deadline: 10 July 2024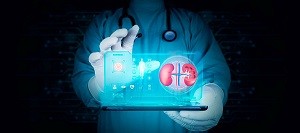 BMC Nephrology welcomes submissions to a Collection on Artificial intelligence in nephrology.
This Collection gathers research on kidney diseases, from basic science to clinical studies, including bioengineers and data scientists, aiming to present novel strategies of analysis to unravel the causes of renal diseases and improving in personalized therapeutics with the goal of achieving precision medicine. We welcome contributions with focus on the role of artificial intelligence in novel data acquisition, synthesis, and interpretation, in scope with the journal's aims in the diagnosis and treatment of renal diseases.



This Collection supports and amplifies research related to SDG 3: Good Health & Wellbeing.