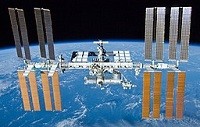 In this special series in Microbiome and Environmental Microbiome, we highlight articles that explore the microbiome of aeronautics and space.
The study of off planet/extraterrestrial, space vehicle and spacecraft microbiomes provides insight on the impact of space travel on human health, characterization of how the environment impacts microbial communities in space vehicles/spacecraft and microbiota dynamics of space built environments.
We cordially invite research and review papers in this new cross-journal series to the journals Microbiome and Environmental Microbiome.
This series will be edited by the main editors for each journal, and will be open for submissions until 31st December 2022. We look forward to receiving your submissions.
Submit to Microbiome.
Submit to Environmental Microbiome.