Guest Editors:
Chang Seok Bang: Hallym University College of Medicine, South Korea
Wandong Hong: The First Affiliated Hospital of Wenzhou Medical University, China
Yeong Yeh Lee: Universiti Sains Malaysia, Malaysia
Andrea Lisotti: University of Bologna, Italy
Kyaw Min Tun: Kirk Kerkorian School of Medicine, University of Nevada, Las Vegas, USA
Submission Status: Open | Submission Deadline: 2 March 2024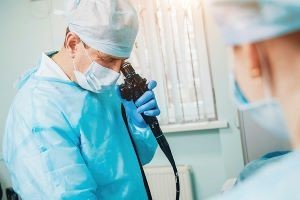 BMC Gastroenterology is calling for submissions to our Collection on "Advanced endoscopic procedures in gastroenterology".
Advanced endoscopic procedures play an essential role in gastroenterology, allowing clinicians to perform minimally invasive diagnostic and therapeutic interventions for a wide range of gastrointestinal diseases. Recent advances in endoscope technology, coupled with the development of new techniques and equipment, have significantly improved the safety and efficacy of these procedures, enabling clinicians to achieve better patient outcomes and improve the overall quality of care.
This Collection aims to collate original research articles that pertain to recent developments in endoscopic techniques and their benefits in the field of gastroenterology.