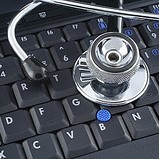 Guest Edited by
Nicolas Bertholet, MD, MSC, Lausanne University Hospital, Switzerland
John Cunningham, PhD, King's College London, UK
Addiction Science & Clinical Practice is pleased to present its special series focusing on digital/information technology (IT) screening and interventions to advance treatment for opioid and other substance use disorders.
Information technology (IT) is increasingly used in health care, with the widespread use of electronic medical records but also through the development of various clinical tools for screening, interventions, and clinical decision aids. In addiction practice, there have been numerous efforts to use IT to advance and disseminate treatment through internet based interventions for unhealthy substance use, electronic screening, clinical coaching and training, and clinical decision aids.
This thematic series highlights in an open-access format articles that address the use of information technology in the prevention and clinical care of people suffering from addiction and in the training and clinical support of health care providers treating addiction. The series has a particular emphasis on screening and interventions targeting opioid use.
All articles underwent the journal's standard peer review process per our editorial policies. The collection's introductory commentary, where the guest editors describe their views on issues in the field of digital health for addiction, was handled by the Editor-in-Chief.
The NIDA Clinical Trials Network (CTN) Dissemination Initiative generously covered the article processing charge for twelve articles in this series.