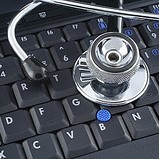 Edited by Nicolas Bertholet and John Cunningham.
Addiction Science & Clinical Practice is pleased to announce an upcoming special series to focus on digital/information technology (IT) screening and interventions to advance treatment for opioid and other substance use disorders.
Information technology (IT) is increasingly used in health care, with the widespread use of electronic medical records but also through the development of various clinical tools for screening, interventions, and clinical decision aids. In addiction practice, there have been numerous efforts to use IT to advance and disseminate treatment through internet based interventions for unhealthy substance use, electronic screening, clinical coaching and training, and clinical decision aids.
This thematic series will highlight in an open-access format articles that address the use of information technology in the prevention and clinical care of people suffering from addiction and in the training and clinical support of health care providers treating addiction. The series will have a particular emphasis on screening and interventions targeting opioid use. Use of IT in addressing alcohol or other substance use will also receive attention.
The series will especially welcome trials evaluating digital screening/interventions, but will also encourage articles across all stages of the research process – from development of the tools through to knowledge dissemination activities.
ASCP is an open-access, Medline and PsycINFO-listed journal. It provides a forum for clinically relevant research and perspectives that contribute to improving the quality of care for people with unhealthy alcohol, tobacco, or other drug use and addictive behaviors across a spectrum of clinical settings. It is published by BMC, part of Springer Nature and a leader in the field of open-access publishing.
Funding for the article-processing charge is available thanks to the generosity of the NIDA Clinical Trials Network. This is subject to editorial acceptance and will be offered while funds are available. If you wish to apply for this funding, please contact editorial@ascpjournal.org, copying kyle.adair@biomedcentral.com prior to submission for more information.