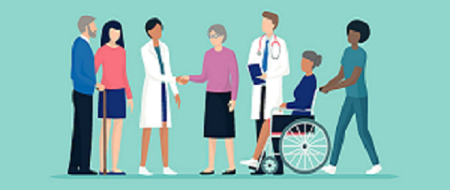 BMC Rheumatology and BMC Musculoskeletal Disorders welcome submissions on Patient and Public Involvement (PPI) in rheumatic and musculoskeletal research. This unique Call for Papers aims to publish an article collection that prompts prioritization of patient perspectives.
Peer-review of submissions will be overseen by one of our academic and/or patient partner Guest Editors:
- Professor Adewale Adebajo MBE, University of Sheffield
- Angie Botto-van Bemden PhD, LAT, ATC, CSCS, Patient Advocate

Patient and public involvement (PPI) is research being carried out by researchers alongside members of the public rather than to, about, or for them (National Institute for Health Research, UK). Patients and the public may be research partners or researchers themselves.. PPI as a concept is not new, and it has gained support in recent years due to increased awareness and commitments placed on researchers by scientific societies and funding agencies.
Musculoskeletal and rheumatic healthcare practitioners have played a leading role in developing strategies to engage patients in the research process. Yet many active researchers believe that they do not have the knowledge or resources to contact, plan or manage patient involvement. This novel Call for Papers aims to create a constructive learning experience and to more meaningfully involve patient and public partners.
All papers related to PPI are welcomed and will be considered. We are interested in attracting clinical/pre-clinical studies that provide good examples of engaging patients, as well as methodological research into the study of PPI. Also included are case studies, narrative/systematic reviews related to PPI, and implementation studies actively involving the public as research partners.
Patient perspectives are being commissioned, and interested public partners will be involved in the peer-review process using adapted reviewer guidelines. Please email any pre-submission inquiries, request additional information, or if you'd like to get involved in reviewing by emailing ciaran.fitzpatrick@springernature.com.
+++++++++
Authors are encouraged to list how PPI was incorporated into the paper via the submission's cover letter and/or as Supplementary files. See below for a list of examples:
- Specify that the submission should be considered for this Special Collection. Tick the relevant box during the submission process in Editorial Manager.
- Confirm that a public referee, which can include an engaged patient, carer and/or lay person, may peer-review the paper.
- Attach a plain language summary as a Supplementary File (in one or more languages).
- Include the GRIPP-2 checklist for reporting PPI as Supplementary file.
- Declare whether inclusive language was used, PPI was incorporated into the study design, and/or all relevant patient/public partners were included in the submission's authorship list.
+++++++++
Please ensure your manuscript adheres to the submission guidelines for BMC Series journals. Especially for manuscripts describing randomized trials, qualitative research, and systematic review methods, the Equator Network reporting guidelines should be followed. To submit your manuscript, please use our online submission system, Editorial Manager. Please make sure you submit in Editorial Manager and not our new editorial submission system.
Accepted articles will be allocated to the journal that best fits scope, which will be decided at the discretion of the Editorial Office. Short reports, initial observations and data sets relevant to the collection will be considered in BMC Research Notes. This type of content will be published in BMC Research Notes and included in the final collection.
Articles will be published on this page as they get accepted. With the last article's publication, the whole article collection will be showcased on the journal's website and further publicized via social media channels.
Submission Deadline: March 31, 2022