Guest Editors:
Marcelo Demarzo: The Brazilian Center for Mindfulness and Health Promotion, Department of Preventive Medicine, Universidade Federal de São Paulo, Brazil.
Linda Zhong: School of Biological Sciences, Nanyang Technological University, Singapore.
Submission Status: Open | Submission Deadline: 28 February 2024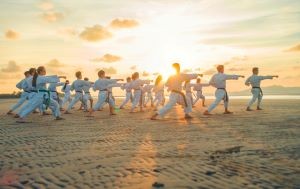 BMC Complementary Medicine and Therapies is calling for submissions to our Collection on mind-body interventions: mindful movement practices.
Albeit more commonly associated with meditation and relaxation, mindfulness practice exists in many forms, including mindful movements. Movement is a fundamental aspect to human life and has been used as a form of both physical and mental therapy since the beginning of time. Mindful movement practices have repeatedly been shown to result in significant health benefits. This includes improved joint and bone function, improved brain and mental health, pain management, cardiovascular conditioning, prevention of injuries, improvement in respiratory functions. As a mindfulness practice, mindful movement-based therapies promote relaxation, increased awareness and improved emotional regulation.