Guest Editor: Prof Luca Richeldi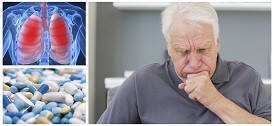 Idiopathic pulmonary fibrosis (IPF) is the most common and most deadly type of interstitial lung disease. It is fatal and progressive, characterized by scarring and damage of lung tissue next to the alveoli. This process causes an irreversible loss of the tissue's ability to exchange oxygen, which results in shortness of breath. Particularly at early stages, IPF causes similar symptoms as some other more common chronic lung diseases, which makes early diagnosis challenging.
IPF most commonly develops between the ages of 50 and 70, more frequently in men than in women and is associated with cigarette smoking. The disease has been reported worldwide with about 50,000 people dying of IPF each year in the US. The causes of this disease are not known, but recent evidence points to a relevant role for genetic factors, making IPF a multigenic disorder, likely linked to environmental triggers. Acute exacerbations represent relevant clinical events, which challenge clinicians with poor outcome and lack of effective management strategies.
The mainstream of IPF diagnosis is thoracic radiology, in particular high-resolution computed tomography, combined with lung biopsy in some cases. Current non-pharmacological management includes oxygen, rehabilitation and lung transplantion. Multiple mechanisms, including inflammation, immunity and oxidative stress have been empirically targeted over the last decades, by routinely using drugs like prednisone, azathioprine or N-acetylcysteine. However, when evaluated in the context of randomized controlled clinical trials, these approaches failed to show any benefit for patients. In a groundbreaking change of the IPF therapeutic landscape, recently two new treatments have been shown to be effective in reducing the disease progression: pirfenidone and nintedanib are becoming standards of care worldwide. Nonetheless, although we have finally entered a new era in the treatment of IPF, many unmet medical needs remain.
This article collection in BMC Medicine seeks to address the rapidly changing landscape in the field of IPF, by highlighting genetics, biomarker discovery, diagnostic approaches, clinical management, novel treatments, guidelines and regulatory issues. The collection will include original research articles as well as invited reviews and commentaries. If you have any research you would like us to consider for inclusion in this series, please email us at BMCMedicineeditorial@biomedcentral.com.