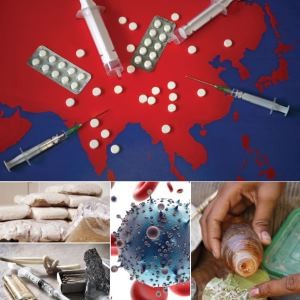 Edited by: Tasnim Azim (International Centre for Diarrhoeal Diseases Research, Bangladesh) and Prof. Nick Crofts (Editor-in-Chief)
HIV epidemics in Asia have all been concentrated epidemics, especially among and from people who inject drugs. Harm reduction responses to these concentrated epidemics have been slow to develop in many Asian countries, and are still not to scale in most. Repressive 'war on drugs' policies continue to impede implementation of effective evidence-based responses. It is over 25 years since HIV arrived in Asia, and 25 years since the first harm reduction programs began here.
This thematic issue will document and explore the current state of harm reduction across Asia, examining the development of a harm reduction response to HIV/AIDS epidemics, evidence of its effectiveness and challenges to its further implementation and integration into health and criminal justice systems. The issue will contain overviews of the epidemiology and scale of implementation of harm reduction across the Asian regions, exemplar case studies of the introduction of harm reduction programs, and critical analysis and commentary.
The article processing charge for a select number of articles in this series were funded by UNAIDS, World Bank, UNODC, Global Fund, WHO, Open Society Foundations. This has been individually acknowledged within the articles. All articles in this series have undergone the journal's full standard peer-review process.
Collection published in Harm Reduction Journal: 16 October 2015