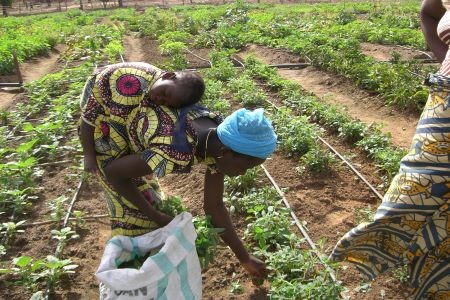 This thematic series will publish in
CABI Agriculture and Bioscience.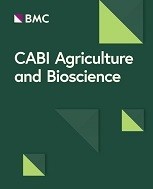 Collection Image credit: icrisat.images
Guest Edited by:
Sajila Khan: Gender Coordinator, CABI
Bethel Terefe : Senior Gender Expert, Africa Region
Frances Williams: Global Monitoring and Evaluation Manager, CABI
Submission Deadline: Closed
This Collection no longer accepts submissions.
Aims and Scope:
Gender, a social construct built through cultural, political and social practices of what it means to be a man or a woman in a particular society, often defines duties and responsibilities expected of women, girls, men and boys. In the agriculture sector, gender affects women and men's roles, access to and ownership of resources and ability to make decisions. Integrating a gender perspective in agriculture is important to realize gender equality and women's empowerment in the agriculture sector, enabling women to participate and benefit from development. Integrating a gender perspective is also important to improve effectiveness of agriculture programs and policies, to improve food security, reduce poverty and increase resilience to climate and other risks.

Women's involvement in the agriculture sector as informal family farm workers and formal wage employees is high and increasing in developing countries, due to male migration to urban areas. However, women employed in the agriculture sector face several challenges. Various studies show farms managed by women are less productive than farms managed by men, due to low access to agricultural inputs, labour and extension advice. Women continue to have less secure land tenure than men, despite legal and institutional reforms to protect their rights. They have limited access to financial services and products, such as, credit and insurance, due to limited ownership of assets, lower literacy levels, limited mobility and social norms. Women shoulder more responsibility for 'unpaid care and domestic work', which creates time and labour constraint on their engagement in agriculture. Gender division of labour and social norms limit women's ownership and management of agricultural machineries. Digital technologies are increasingly used to provide agriculture advisory services and market information to farmers. Women's ability to access this information is affected by the gender gap in smartphone ownership and internet access. In agriculture value chains, women are concentrated at the lower, less profitable ends of the value chain, which keeps them from gaining from the most profitable portions of the value chain. Women in formal wage employment in the agriculture sector tend to be paid less than male workers and don't enjoy 'decent work' conditions.

Manuscripts considered:

Submissions (research articles, reviews, opinion papers) on strategies and approaches that help to address the agriculture gender gaps outlined above are encouraged. Topics relevant for the issue, but not limited to, are:
Strategies to enhance women's access to and use of agricultural technologies including on and off-farm time and labour-saving technologies
Good practices to improve women's access to hired labour, agricultural inputs and to improve participation in farmers' organizations
Agriculture value chain studies to understand what works to support women agriculture entrepreneurs to expand their businesses and to support young women to engage in agriculture value chains as wage earners and entrepreneurs
Innovative approaches to improve women's access to financial services in the agriculture sector
Approaches to shift social norms affecting women's participation and access to agricultural services and their ability to make decisions on agriculture production and income
Provision of gender sensitive agricultural advisory services and strategies that help to bridge the gender digital divide
Studies on impact of existing corporate practices to improve agriculture employment conditions for women farmers
Strategies to address unpaid care and domestic work affecting women's participation in agriculture
Strategies to strengthen women's land rights.
Impact of agricultural programs on women's empowerment that can help to identify key areas of disempowerment where future polices and investment programs should focus on
1. Unpaid care and domestic work (UCDW) is the often-invisible work of caring for children, elderly and sick people and those living with disability, as well as cleaning, cooking, washing, collecting water and fetching firewood, among other tasks.
2. Decent work is defined as work that is productive and delivers a fair income or minimum wage, ensures security in the workplace and social protection for families, better prospects for personal development and social integration, freedom for people to express their concerns, organize and participate in the decisions that affect their lives and equality of opportunity and treatment for all women and men.