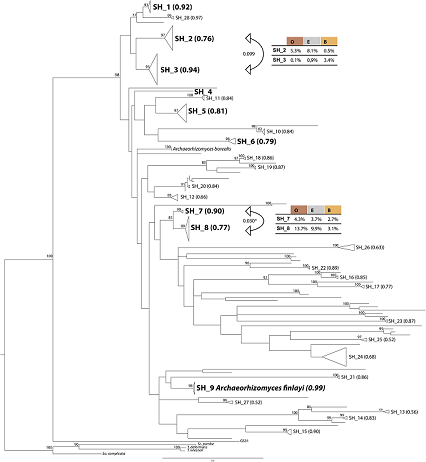 High throughput sequencing has opened the door to exciting new approaches to detect and classify unknown fungal diversity, particularly of ecologically cryptic fungi. Both the methodological approaches to accurately delimit and recognize fungal taxa from these data and the nomenclatural hurdles to describe them formally have posed challenges to advance the classification of these "dark fungi", lineages only known from sequence data for which no physical voucher material or cultures are available.
This retrospective topical collection flags papers that in some way relate to dark fungi taxonomy and nomenclature, including methodological approaches, nomenclature, and associated topics such as important resources, the extent of unknown fungal diversity, or aspects of species concepts in lineages only known from sequence data.
Submissions should be formatted according to the journal guidelines of IMA Fungus. Please indicate clearly in the cover letter and as part of the online submission form that the manuscript is to be considered for this collection.
All manuscripts will undergo standard peer review, and must be submitted through the journal's online submission system.
Compiled by Robert Lücking, Botanical Garden and Botanical Museum Berlin, Germany, and David Hawksworth, Royal Botanic Gardens Kew, UK
Edited by David Hawksworth, Royal Botanic Gardens Kew, UK
Image: Figure 1 from Khan et al., used under CC BY 4.0. Image resized.