Edited by: Professor Pascale Allotey, Prof. Xiao-Nong Zhou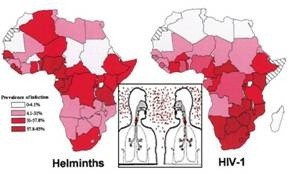 Poverty has been established as the driver for many diseases, both infectious and non-infectious. The major focus of research in prevention and management has taken a single disease focus. The increasing occurrence of multiple infections and diseases, however, cannot be ignored. Co-infection is the simultaneous infection of a host by multiple pathogen species, for instance multi-parasite infections. Co-infection also occurs as simultaneous infection of a single cell by two or more virus particles, which can arise incrementally by initial infection followed by superinfection. Co-infection is of particular human health importance because pathogen species can interact within the host. Interactions within the host can have either positive or negative effects on each of the co-infecting parasite species. Under positive parasite interactions, disease transmission and progression are enhanced. Syndemics refers to the aggregation of two or more diseases or afflictions in a population where there is a synergistic relationship which enhances and exacerbates the negative health effects of any or all of the diseases.
The notion of syndemics can be expanded further to situate the occurrence of multiple diseases within the context of poverty and other mitigating factors that support and perpetuate poor health. Syndemics tend to develop under conditions of health disparity, caused by poverty, stress, or structural violence, and contribute to a significant burden of disease in affected populations. Given that social conditions can contribute to the clustering, form and progression of disease at the individual and population level, it poses a great challenge in understanding the processes that generate these patterns of co-infection and syndemics.
In this special issue, we present a series of papers that explicitly address the importance of co-infection and syndemics in order to trigger more research on and a better understanding of how a suite of co-infections within or between host as well as syndemics among populations will respond to better medical and public health interventions.