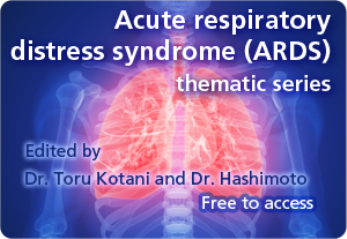 Edited by Dr Satoru Hashimoto and Prof Toru Kotani
Acute respiratory distress syndrome (ARDS), firstly reported in 1967, is a life-threatening syndrome. The treatment of ARDS has not yet been fully established, and the mortality still remains around 30%. Although the precise mechanisms of ARDS have not fully understood, pathophysiological investigation has disclosed that inappropriate mechanical ventilation is associated with the initiation and the propagation of ARDS. And lung protective strategy has been widely accepted in the clinical field to prevent ventilator-associated lung injury.
In this thematic review series published by Journal of Intensive Care, the some authors introduced new causative factors for ARDS such as cell-free hemoglobin or mismatched spontaneous breathing during mechanical ventilation. Other reviews covered overall topics in ARDS, the application of ECMO in ARDS, or prospective biomarkers such as several pathogen-associated molecular patterns (PAMPs) and damage -associated molecular patterns (DAMPs) in ARDS.
This collection of articles has not been sponsored and articles have undergone the journal's standard peer-review process. The Guest Editors declare no competing interests.